If features on Market don't work
If Market features aren't working, try disabling options that help your browser handle special content. Use the instructions below to make sure that you are ready to use Market.
Enable Market features
Chrome

In the Chrome app, click , then click Settings

Scroll down, under Privacy and security, click Site Settings, then click JavaScript
Make sure the Allowed (recommended) checkbox is selected — If for any reason you need to leave the global JavaScript checkbox unselected, under Allow, add [*.]anamo.app
Finally, make sure under Block there are no records ending in anamo.app

Firefox

In the Firefox app, click the address bar and type about:config, then press Enter
If you see a Proceed with Caution warning, click Accept the Risk and Continue
Click the Search field and type javascript, then press Enter
Finally, make sure the javascript.enabled option is set to true

Safari

In the Safari app on your Mac, go to anamo.app (log in if you're not already logged in to Market)
Choose Safari, then Preferences, then click Security
Make sure the Enable JavaScript checkbox is selected
Click Websites
On the left, click Content Blockers
Finally, make sure Off is chosen in the pop-up menu next to anamo.app

Microsoft Edge

In the Microsoft Edge app, click , then click Settings

Choose Cookies and site permissions, then click JavaScript
Make sure the Allowed (recommended) checkbox is selected — If for any reason you need to leave the global JavaScript checkbox unselected, under Allow, add [*.]anamo.app
Finally, make sure under Block there are no records ending in anamo.app

Mobile Safari

Launch the Settings app
Scroll down and tap Safari, then tap Advanced
Finally, make sure the JavaScript switch is on

Chrome on Android

In the Chrome app, tap , then tap Settings

Scroll down, under Advanced, tap Site Settings, then tap JavaScript
Make sure the JavaScript switch is on
Finally, look for an anamo.app record. If there is one, tap on anamo.app, then tap Clear & reset, then tap Clear & reset again

Firefox on Android

In the Firefox app, tap the address bar and type about:config, then press Enter
Tap the Search field and type javascript, then press Enter
Finally, make sure the javascript.enabled option is set to true

Microsoft Edge on Android

In the Microsoft Edge app, tap , then tap Settings

Scroll down, under Advanced, tap Site permissions, then tap JavaScript
Finally, make sure the JavaScript switch is on
If you're curious about the technical requirements needed to run Market, continue reading to learn which operating systems and browsers we support.
Web browsers
| Browser | Requirements |
| --- | --- |
| Chrome | Version 66 or above |
| Firefox | Version 60 or above |
| Safari | Version 11.0 or above |
| Microsoft Edge | Version 41 or above |
Unsupported browsers and operating systems
To deliver the best possible Market experience, we keep our list of supported browsers and operating systems short. We don't fix bugs or issues for unsupported browsers, so we do our best to block them from accessing Market.
Troubleshoot connection issues
If you see a browser error with the device you're using to access Market, we can help. Here's an example with Google Chrome: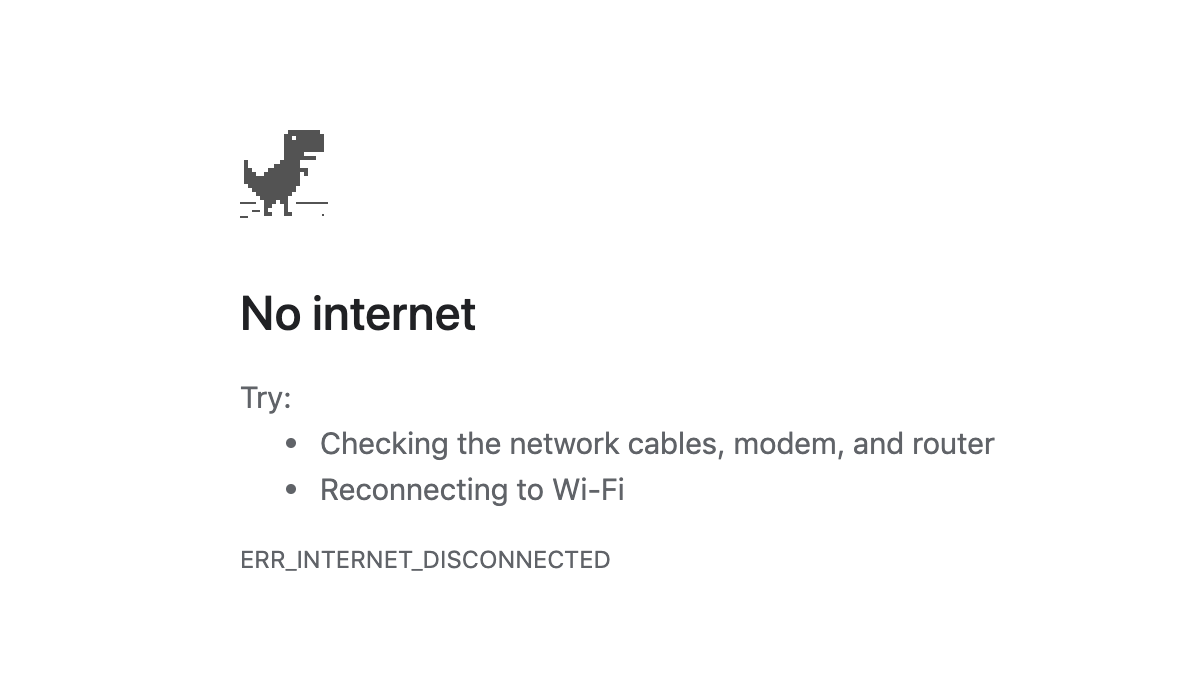 Troubleshooting steps
If applicable, use the troubleshooting steps included in your browser's error message.
Make sure the browser you're using is supported and up to date. See the Web Browsers above for more details.
Clear your web browser's cache (these steps will vary depending on the browser you're using).
Open Market in a private or incognito window to see if you can connect to Market. If you can connect in a private or incognito window, the issue may be due to a browser extension. Disable any browser extensions, and see if this allows Market to load in a normal browser window.
Still having trouble?
Send us a message! We're happy to help you troubleshoot. 🎯